One of the many exciting and sometimes stressful parts of the holiday season is entertaining at home with friends and family. To prepare for their arrival you may be tempted to just clean the kitchen counters, toss a few extra towels in the guest bathroom and ignore the rest of the house. Instead, your visitors will enjoy the party more if they have full access to an open, organized and welcoming home.
Knowing where to start is the most important thing. Lifestyle guru Susie Coelho has provided entertaining tips for the home on HGTV, 'Oprah, ' 'Today ' and 'The View ' and knows just what to do.
Making Your Home Ready For Entertaining
Food can make or break a celebration. Start your preparations by stocking the bar and cleaning the kitchen.
Set the table or buffet before people arrive. There is a good chance some of the seating for your gathering will be located in the kitchen area. Make certain the kitchen is clean and the sink area is cleared of all food prep materials. If your garbage disposal has an odor, your guests will be sure to notice. Before the party starts, drop in a Power Pack of Liquid-Plumr Disposal + Drain Foaming Cleaner and run the disposal. The fresh citrus scent indicates your disposal is cleaned and deodorized, eliminating the chance of an embarrassing lingering smell being sensed by your guests.
'If you decide to host a holiday event or New Year's Eve party, ask your guests to participate by bringing an appetizer on a decorative platter. This will add different flavors to your event and help encourage conversations about the combination of foods prepared, ' Coelho says.- Also, encourage them to match the theme of the gathering, like chips and salsa for a Mexican-themed party or olives, hummus and pita bread for a Greek-themed party.
Once the space is clean and the food is ready, add simple decor to make the space warm and inviting.
When decorating the seating and buffet areas, Coelho suggests going simple with tea lights in glass votive jars and choosing a one or two-tone color palette for dishes, napkins and flowers.
'For beautiful ambiance and magical lighting, arrange candles down the center of the table, ' she says. 'If you want to add some greenery among them for the holidays, you can, but keep it simple. '.
In addition to the candles as centerpieces, Coelho also recommends making the food part of the display as well.
'Contrast is a buffet's best friend and you can find it in different heights, sizes, colors of the food, dishes and accessories. I have used everything from fabrics, herbs and pottery to flowers, candles and vases, turned over a dish to get height and used an odd container for display, ' she says.
The more room you have to mingle, the merrier everyone will be.
As people start making themselves comfortable, they won't just stay in the kitchen. Having all areas of the house clean and open will invite guests to gather and socialize, keeping the party going longer.
One room your guests will be sure to visit is the bathroom. Make certain you have the room stocked with plenty of paper products as well as soap and hand lotion. Consider also placing a decorative candle in the room to add a festive glow for ambiance.
Now that you had prepared your home for guests ahead of time, you can enjoy the fun and party the night away.
Simple Home Entertaining Tips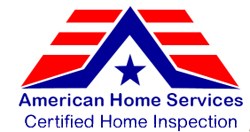 American Home Services | Let this experienced Orlando Home Inspection company help keep you from buying The Money Pit. We'll alert you to any and all health or safety issues and maintenance needs of the home you're looking to buy.
American Home Services will be your home buying or selling advocate!  We are committed to providing you with outstanding service. We're highly experienced and extremely thorough. If you're looking to buy or sell in the Orlando area, we can help!
We're here to accommodate ALL the needs of our clients during the process of purchasing a new home or smaller commercial structure.
Call Us Today (352) 429-7062 or Click To Schedule Online 24/7 Right From Our Website.